A lot of DevOps hiring goes amiss because people are starting in the wrong place. If you view DevOps as simply another job title instead of something that your whole organization needs to embrace, then any new hires will have a limited impact.
DevOps engineers don't make a DevOps-first organization — the DevOps mindset does. We believe that if you work on that before hiring a single person, it's possible to avoid the question "Why is it so hard to hire for DevOps?" completely. Based on a Redgate article, almost half of HR professionals say they struggle to recruit DevOps engineers. Is this hiring struggle just a simple supply and demand problem? Or are there other issues at play that make it so difficult to hire for DevOps?
Let's take a look at how you can build a DevOps hiring strategy so that you can find the right match for your organization.
---
Is your hiring strategy working for you?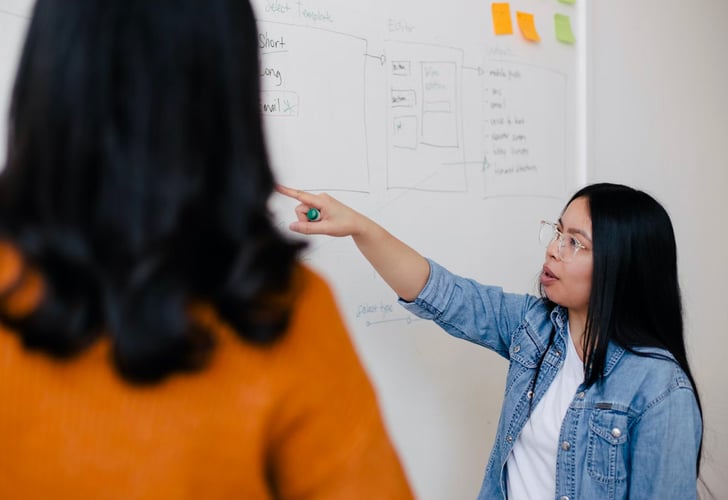 Interviewing processes are very inverse nowadays: instead of the boss interviewing for the best employee, employees are now interviewing for the best potential opportunity.
Potential recruits will certainly share both good and bad interview experiences, and word will get out quickly whether your organization is one to pursue or to avoid, so it's best to start your journey now.
Consider it a learning journey because each interview is an opportunity for you to learn how your organization could become more compelling to prospective team members, and every positive interview can be your best opportunity to find talent, even if you don't hire that person. There is a big upside to this — if you're not attracting top talent, you have the opportunity to learn the reason why and fix it. So how do you find the right DevOps match for your organization?
---
Finding the Right Match for Your Organization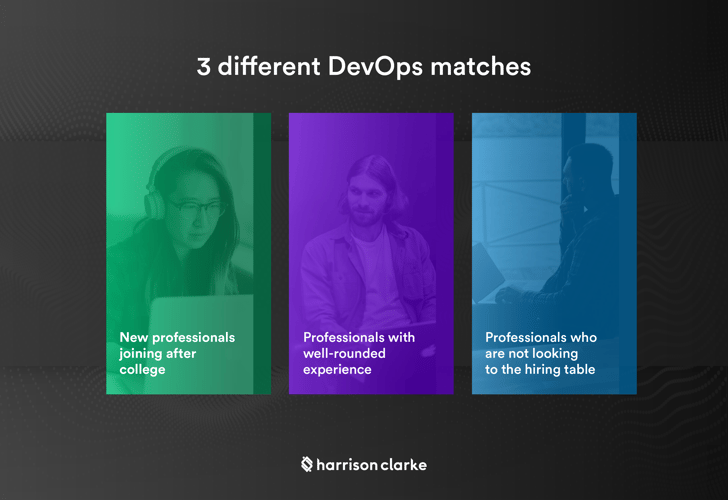 If you're ready to establish or add to your DevOps team, then be prepared for a challenge.
The talent pool for DevOps is small. In fact, only 17 percent of developers are currently looking for a job, per the 2020 Developer Survey.
What you're up against is fierce competition and passive candidates. There are also new DevOps professionals joining the workforce, straight from college. If you choose to recruit from this group, though, there will be learning curves. Ideally, you want to find professionals with well-rounded experience who are looking for a new challenge.
Because remote work is now being embraced by just about every company, you have a larger geographic area to consider. No matter what, you'll need a strategy.
Recruiting Options
Recruiting is complicated, especially in technical fields. There are many ways to approach it. You can ask for referrals in your network or explore connections on LinkedIn. If you have an internal recruiter, they can begin the search through various channels.
The most traditional route is to use job boards. You can place listings on general ones as well as tech-specific boards. Or you can simply post the job opening on your website. You are likely to get a number of applications, finding that most probably don't fit your ideal.
These recruiting options aren't likely to yield the best match. You want an employee for the long run, one who can contribute to your organization's growth and success. Because of the competition and the specialized skills that are necessary, you may find these avenues to be a waste of time and money.
At Harrison Clarke, the majority of our placements come from passive talent within our network. We work to bring candidates who are not looking to the hiring table, and this is where we see the most success.
Now that you have that down and have resumes piling in, take a moment to assess the effect on your business. If you hire someone who has some basic skills and knows about the role of SRE, will that help you achieve your goals? Would that person bring value?
As you ponder those questions and the journey ahead for your company, consider if you could be making mistakes in hiring SREs.
---
Red Flags to Avoid in DevOps Recruiting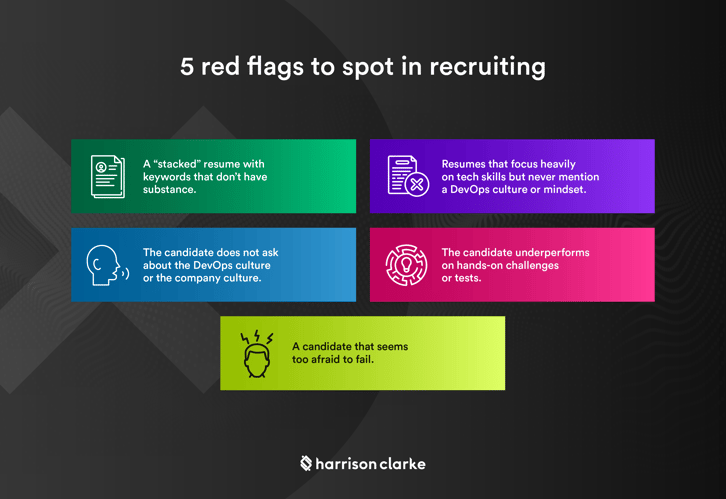 In an ideal world, you could believe everything that's on paper.
Unfortunately, that's not always the case. A resume should be an introduction to a candidate.
If you see something that makes you think twice, it could be a red flag. For example, a resume may seem "stacked" with keywords that don't have substance. If it's hard to determine what the person did in their role, it could be a red flag.
You may also receive resumes that focus heavily on tech skills but never mention a DevOps culture or mindset. These candidates may have the technical aptitude but not the soft skills necessary for DevOps.
Even with a stunning resume, an interview will tell you more about a candidate. Interviews are a chance for applicants to impress you and demonstrate their DevOps knowledge, but they may also raise further red flags.
Does the candidate ask about the DevOps culture or the company culture as a whole? Culture is significant, so it would seem questionable if it's not a point of discussion. If they don't ask, and you do, do they seem disinterested?
Those are red flags waving. You can also provide some hands-on challenges or tests to gauge their knowledge. If they don't perform here, then their resume may have been a house of cards. Finally, be apprehensive about perfectionists. A DevOps culture sees failure as an opportunity to grow and learn. If someone is too afraid to fail, they're not a good fit.
---
Recruit Smarter with a DevOps Recruitment Firm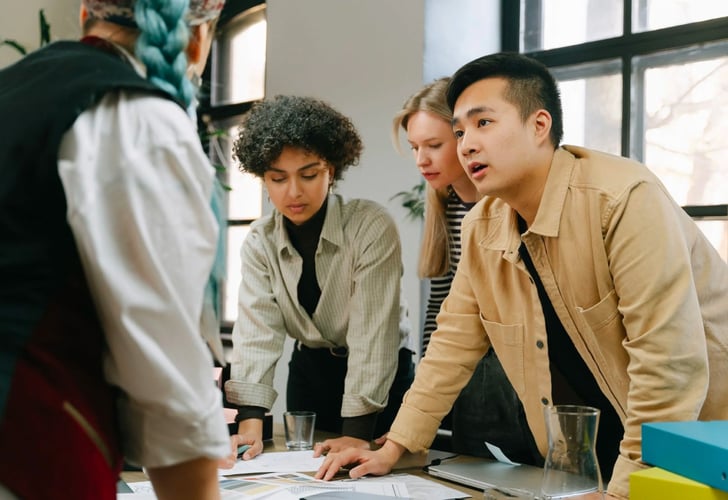 Take chance, frustration, and obstacles out of the picture by working directly with a DevOps recruitment agency. By doing this, you get a clear advantage over other companies. Recruiters at these agencies understand the industry and the skill sets that DevOps requires.
They fully vet candidates for both hard and soft skills. They'll bring you only the best people who fit your culture. By partnering with a DevOps recruiter, you're more likely to make a decision that's beneficial for all parties. You and your new hires will be happy.